My perspective on the indefinite continued progress of existence.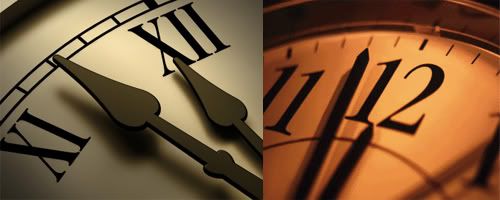 Roger Waters' lyrics in Pink Floyd's Time contains the most influential four lines of poetry that I have ever heard in my life:
  "Tired of lying in the sunshine staying home to watch the rain. You are young and life is long and there is time to kill today. And then one day you find ten years have got behind you. No one told you when to run, you missed the starting gun."
  There was a point in my life when I was "wasting" precious time, just dealing with life day by day. Then one day I was listening to The Dark Side of the Moon album, which I do from time to time, and inevitably the song Time played. Listening to the lyrics a bit closer than I usually would, I began to reevaluate my life. I looked at my cognitive and personal goals and wondered why I wasn't achieving them.
  My biggest fear now became that "one day I would find that ten years had got behind me" and it would be too late to change my life; So, I made the necessary changes to eliminate this fear. Now, a year from that realization, I can honestly tell you I have never been happier and healthier. For me every day is a step closer to completing my goals in life. I'm no longer wasting time.
  Time has always fascinated me. Some days we feel we have too much time on our hands, and other days we don't have enough time. My nine year-old sister constantly complains that she is bored. When she does this I say to her "I wish I had the time you have!" She then shrugs at me and finds some computer game to play and is satisfied. After this I always find myself thinking about what I did when I was around her age, and I can't help but feel like I wasted time. For example, playing video games feels like a waste of time for me now, but when I was her age it was of utmost importance. My point is as we grow older our cognitive and personal goals change. Beating a video game just isn't a personal goal I want to achieve now. 
  I want to do so much in my life, I want to see so many things and learn so much. I just can't find the time! So I slowly work towards my goals. A different approach could be to cut out the other time consuming concerns from your life such as, family, friends, your significant other, etc. In my experience this only causes problems. Even though these people take up a considerable amount of your time, they are an essential part of your happy life. If you just devote your time to yourself you'll soon become lonely, depressed and empty.
  On the other hand you also need a considerable amount of alone time. This is when you truly work on your life and your goals. This is when you ask yourself crucial questions for evaluation. Still, one is not complete until they have someone that they can share their alone time thoughts with; Therefore, intellectual relationships are extremely important. Just don't let this person hold you back from completing your goals.
  Many days I find myself wishing that I had the free time I once had before my first job and before college life, but instead of dwelling on it (which wastes more time) I continue to move forward. My hope is that having no free time will one day climax, and eventually I will gain more free time again. So, hopefully I don't die soon because I want to do so much more. I pity the poor souls that are "staying home to watch the rain", for time is a valuable thing and should not be wasted.